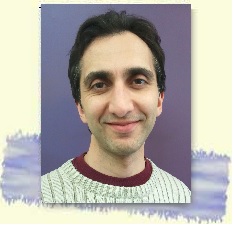 Kasra Pournadeali, ND, FACN
Education / Licensure: Dr. Kasra Pournadeali (pour-na-deli) a graduate of Bastyr University's 4-year Naturopathic Medicine program, received his undergraduate degree in Radiologic Technology from the University of Oklahoma. He is a licensed through the Washington State Department of Health.

Positions and Affiliations: Dr. Pournadeali is founder and director of the Northwest Center for Optimal Health, and has served as faculty at Bastyr University. He has been elected President of the WA Association of Naturopathic Physicians, and the Amer Association of Naturopathic Physicians. He speaks and writes locally and nationally, has published hundreds of articles, and has made over 1000 television and radio appearances. He is co-host of KSER's "Sound Living with the Doctors" on FM 90.7 and at kser.org, Thursdays at 4:00 p.m. P.T.

Practice Interests: "I like to focus on helping patients maximize their health. I particularly enjoy helping patients deal with heart, vascular, men's health, and digestive problems." "I like helping my patients find better alternatives to drugs, and age more-healthfully." "Why accept status quo, when we can be better?"

Philosophy: "A good doctor must take time to explore a person's condition, and study the whole picture – not just the presenting problem. A good doctor considers the patient's long term health, years down the line, and knows when to say; 'I don't know, but I'll try to find out.'"

Personal: Dr. Pournadeali was born and raised in Norman, Oklahoma by his parents Esfandiar Pournadeali M.D., Ph.D and Parry Pournadeali R.N., Ph.D. and his sister, Parisa, a labor and delivery nurse. Dr. Pournadeali is married to Rebecca, who he met at the University of Oklahoma. In his spare time, he enjoys quality time with his daughter, wife, and family; traveling, conferences, volunteering for his profession, tinkering with his cars, and playing with their rescued cats.
For more information about Dr. Pournadeali or to schedule an appointment, please contact our office at (360) 651-9355.
The Mission of the Northwest Center for Optimal Health:
Providing patients and their families safe, effective care in a comforting and welcoming environment, using physicians expert in combining natural and conventional medicine, and who focus on patient education and prevention.