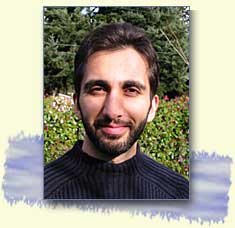 Kasra Pournadeali, N.D.
Education / Licensure:
Dr. Kasra Pournadeali is a graduate of Bastyr University's 4-year Naturopathic Medicine program (one of only a few accredited Naturopathic programs in the United States).
He received his undergraduate degree in Radiologic Technology (BSRT) from the University of Oklahoma Health Sciences Center,licensure as a naturopathic physician through the American the Washington State Department of Health.
Positions Held / Affiliations:
Dr. Pournadeali is founder & director, of the Northwest Center for Optimal Health, is the past President of the Washington Association of Naturopathic Physicians, and the President Elect for the American Association of Naturopathic Physicians. Dr. Pournadeali serves on the CNME-Accredited Foundation for Care Management.
Dr. Pournadeali has served on the university Curriculum Review Committee; the Review Staff for the Natural Medicine Journal, and has been a university faculty since 1999.
In addition to practicing at NCOH, Dr. Pournadeali educates the community through his his weekly talk radio show: Sound Living, serving western Washington.
Practice Interests:
"I like to focus on helping patients maximize health." "Although I practice general, adult care medicine, I particularly enjoy helping people improve energy, and deal with heart & digestive problems." "Osteoporosis, and difficult to diagnose conditions, are also my special interests."
Philosophy:
"A good doctor must take time to investigate a person's condition, and study the whole picture-not just the presenting problem." "A good doctor considers the patient's long term health, years down the line, and knows when to say: 'I don't know, but I'll try to find out.'"
Personal:
Dr. Pournadeali was born and raised in Norman, Oklahoma by his father Esfandiar Pournadeali M.D., Ph.D. previously a university professor, his mother Parry Pournadeali R.N., Ph.D., previously an intensive care nurse and Clinical Psychologist; and, sister Parisa, a labor and delivery nurse. Dr. Pournadeali is married to Dr. Rebecca Dirks, who he met at the University of Oklahoma in college. She is an associate physician at NCOH, and faculty member at Bastyr University. In his spare time, Dr. Pournadeali, enjoys the politics of medicine, attending educational conferences, road trips, tinkering with his cars, and spending quality time with his wife & family.
For more information about Dr. Pournadeali or to schedule an appointment, please contact our office at (360) 651-9355.
The Mission of the Northwest Center for Optimal Health:
Providing patients and their families safe, effective care in a comforting and welcoming environment, using physicians expert in combining natural and conventional medicine, and who focus on patient education and prevention.