WHAT IS NATUROPATHIC (nature-o-pathic) MEDICINE?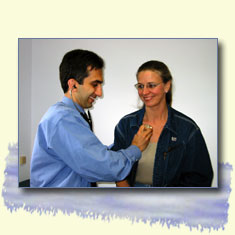 What is a Naturopathic Physician?
Naturopathic Physicians(NDs) are physicians who have been trained in conventional & natural sciences. Like conventional (MD/DO) doctors, NDs are licensed to diagnose your condition, and provide appropriate care. Unlike regular doctors however, we are particularly interested in using therapies that stimulate a person's natural healing processes, using non-toxic therapies; and, to identify and remove causes of a disease. Our primary goal, as your doctor is to not only treat your condition, but improve your health in the process.
What is the Education of a Naturopathic Physician?
To practice (in Washington State), a person must complete a 4-6 year intensive, postgraduate, didactic program at an accredited naturopathic college. Entrance is highly competitive; and, an undergraduate degree and all premedical courses are required. Once accepted in a program, the naturopathic student must complete all basic sciences courses including anatomy, pathology, physiology, biochemistry, etc., as well as clinical & diagnosis courses. Finally, naturopathic therapeutics are emphasized to assure that the graduate is truly a natural medicine expert. Throughout the program, students train in clinical settings, managing patients under supervision of licensed naturopathic doctors.
What treatments does a Naturopathic Physician Use?
Naturopathic Physicians use methods such as botanical (herbal) medicine, therapeutic nutrition, physical medicine, homeopathy, hydrotherapy, oriental medicine, counseling, diet & lifestyle modification, exercise therapy, minor surgery, and standard drug therapy. Non-drug therapies, when administered by trained Naturopathic Physicians are often safer, less toxic, and have fewer side effects than conventional drug therapies. At the Northwest Center, we utilize the natural and conventional methods best tailored to you, to help you achieve your very unique health goals.
Why should I see a Naturopathic Doctor, when others tell me about vitamins & herbs?
Simple: Naturopathic Doctors are the only physicians who are board-certified in Naturopathic Medicine, by the Washington State Dept. of Health. This makes us best-qualified to make recommendations on alternatives to standard drug therapy.
More importantly, taking medical advice on nutrition, herbal medicine, and other non-drug approaches from persons not trained as physicians can be unsafe. This is one reason why conventional physicians are fearful about patients using herbal medicines or vitamin therapies. Well-intentioned salespeople giving advice are typically not aware of interactions between vitamins/ herbs/ and drugs, know which therapies are researched, or how to diagnose & treat your condition. For these reasons, recommendations from laypersons can be ineffective or even harmful.
All the naturopathic doctors at the Northwest Center for Optimal Health have extensive training, are licensed to diagnose and treat, and are therefore in a unique position to help you determine when non-drug therapies are appropriate for you.

Will I have to stop seeing my regular doctor to use Natural Medicine?
You should keep your regular doctor for your basic care, and see us to take your care to the next level- maximize your health. See us when you are ready for more than basic health care.

Are naturopathic treatments scientific, and effective?
Yes, although the term "Naturopathic Medicine" is just over 100 years old; our therapies and philosophy have been helping people for centuries. Naturopathic methods have been subjected to thousands of controlled studies in areas such as clinical nutrition, botanical medicine, homeopathy, immunology, hydrotherapy, and others. Furthermore, our policy is to apply only those techniques with documented scientific efficacy, or a long history of clinical safety and effectiveness.
What is Naturopathic Medicine especially good at treating?
Our goal is to maximize your health and quality of life, (not just treat symptoms). However, some of the most common conditions we help patients overcome include:


Fatigue/ Chronic Fatigue
Anxiety/ Depression/ Hyperactivity & other mood challenges.
Gastrointestinal problems like Ulcers, Irritable bowel, Crohn's, Diarrhea, Constipation, and Esophageal reflux (GERD).
Heart disease /High blood pressure/ High cholesterol.
Fibromyalgia/ Musculoskeletal complaints/ injuries.
Arthritis/ Gout/ other Rheumatic diseases
Allergies/ Chronic infections/ Immune system disorders
Migraines/ Headaches
Diabetes/ Hypoglycemia
Problems with weight.
Common pediatric conditions like Infections/ Allergies/ Otitis (ear infections)
Urinary tract infections
Prostate conditions
PMS/ Endometriosis /Menopause, or other hormonal imbalances
Acne, Eczema, Dry skin
Addictions (smoking cessation)
Can I stop taking the drugs my regular doctor prescribed, and take herbs instead?
Perhaps, but we want you to reach your health goals safely. This should ideally be accomplished through collaboration with your other doctors. True, non-drug therapies can often replace standard drugs, but sometimes they donít. In such cases, we recommend, and do prescribe standard drugs. The best approach to your health is an integrated one giving you opportunity to utilize both Conventional and Naturopathic Medicine when appropriate.
How can I find out if Naturopathic Medicine can help me?
You can schedule an appointment with one of our doctors. For more information, or to schedule with one of our doctors, call us at (360) 651-9355.